Program Overview
Established in 1592, this is the only Irish university ranked in the world's top 200, with many small classes and a high faculty-to-student ratio. The college's library is one of the few book repositories for Ireland and the UK, containing over 7 million volumes, including the famous Book of Kells. The 47-acre campus is in the heart of the city, near museums, libraries, theaters, cinemas, shops, and restaurants.
Details at a Glance
Application deadline
Fall: April 1
Spring: Oct. 1
Academic Year: April 1
Housing
Apartment/Flat;Residence Hall/Dormitory;Single Room
Instruction language
English
Language prerequisites
None
Apply Now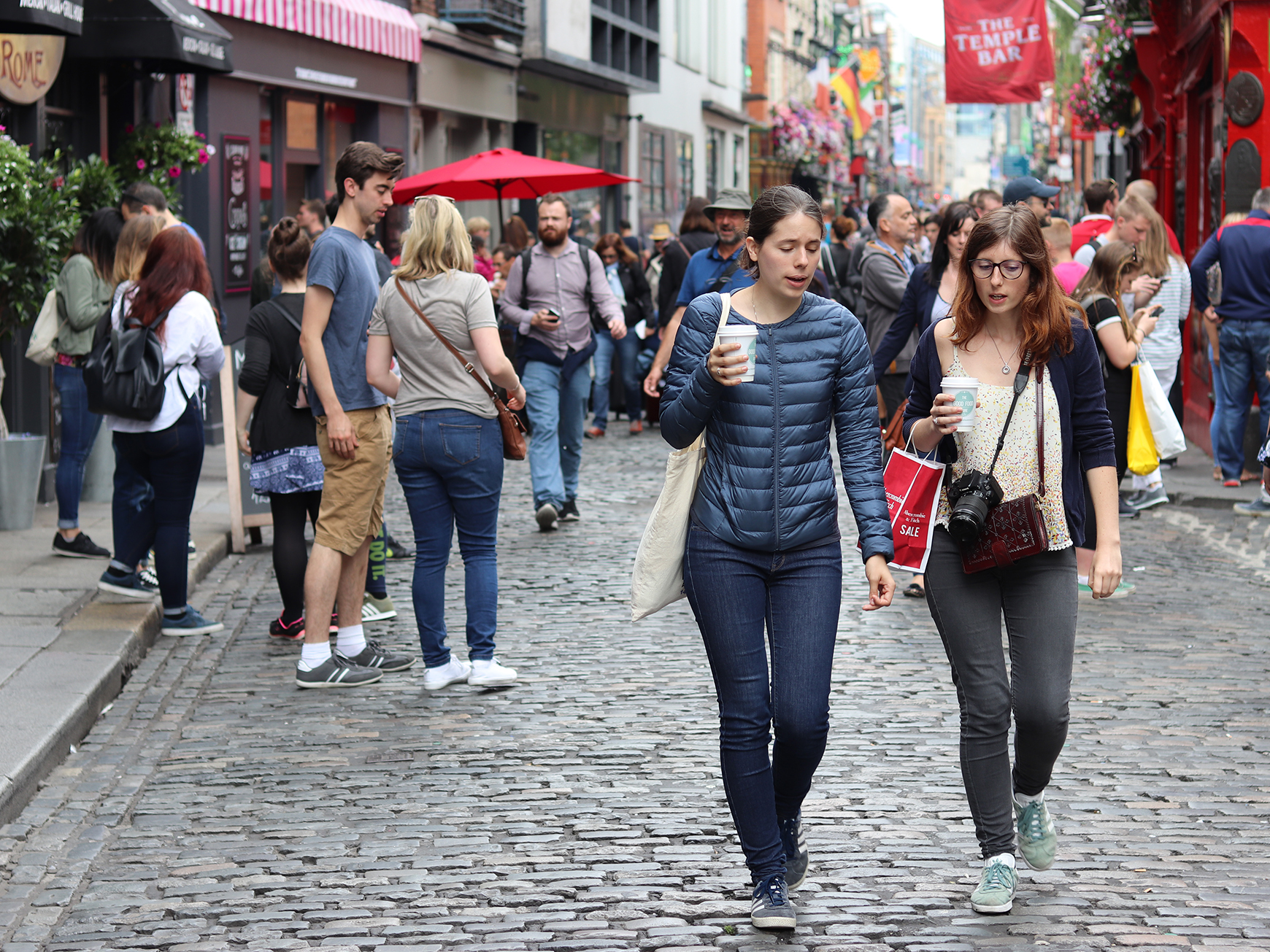 Academics
To view Trinity Visiting Student Module Directory, click here. Students are accepted to specific academic departments; please note that applications are judged on a case by case basis by departments and some may have higher departmental GPA requirements, above the minimum GPA of 3.1. Whenever possible, we will publish higher GPA requirements as communicated to us by Trinity College Dublin.
Department of Economics: 3.5 GPA requirement
Department of Philosophy: 3.5 GPA requirement
Department of Political Science: 3.3 GPA requirement
You can apply to up to six departments at Trinity, and you must apply to a minimum of two. If you list a department, you should plan on taking at least one course in that department. The course preference form is not a registration form; while you will be provisionally accepted to departments, you will not officially register for courses until after you arrive at Trinity College Dublin. You should discuss your course selections with your academic advisor at your home institution and have several backup choices in mind.
In addition to departmental offerings, Trinity visiting students have the option to take one "Trinity Elective." These Trinity Electives do not require departmental approval and are open to all students based on availability.
CHART Your Course
Find the classes you need fast with CHART. Our easy-to-use tool shows you classes recently taken by IFSA students.
Credit Conversions
The typical course load at Trinity College Dublin, is 25-30 ECTS credits, which is equivalent to 12.5-15 U.S. semester credit hours. Individual departments at Trinity reserve the right to designate full course loads that are greater than the standard ECTS level. In addition, students participating the fall semester Early Start program often earn up to a total of 17.5 U.S. semester credit hours.
1 ECTS credit = 0.5 US semester credit hours.
It is your responsibility to confirm your home institution's requirements regarding course load during your study abroad experience.
EARLY START OPTION
An early start optional class is available for fall and academic year students only.
Understanding Ireland: An Interdisciplinary Module in History, Archaeology, Art, Architecture, and Literature
Starting approximately three weeks before the regular start of term, this class is split into three compulsory strands: Irish history, archaeology art, and architecture, and literature in a historical context. Morning lecture and small group tutorials are supplemented with afternoon field trips focusing on detailed assessment of key events, personalities, debates, influences, and texts. Past field trips have included the Abbey Theatre and Croke Park with day trips to the Boyne Valley and Kilkenny. (2.5 U.S. semester credit hours)
Lab & Field Trip Fees
Please review syllabi and course materials when registering for direct-enroll classes. Certain classes may have a one-off lab or field trip fee disclosed in the syllabus or during the first meeting of the class. These fees are not included in your IFSA program fee. You will be responsible for these fees, whether they are billed and paid by IFSA or billed to you.
TRINITY ELECTIVE
This is not a department and does not count as one of your departmental choices. If interested, students may apply for one Trinity Elective after they arrive on campus. Visiting students can take a maximum of one. Admission is granted when space is available.
ENGLISH
Entry-level modules may be available to visiting students based on availability. Upper-level English modules are reserved for English majors only. English majors can typically take a maximum of two Sophister—level (3000/4000) English modules, but additional modules at the lower level may be available.
ECONOMICS
A prerequisite for this department is both Introduction to Macroeconomics and Introduction to Microeconomics at your home institution. Trinity will not recognize AP credit as a sufficient prerequisite. A 3.5 GPA minimum is required.
EDUCATION
Education modules are not available to visiting students at the undergraduate level.
CHEMISTRY
Students studying for the fall (Michaelmas) term only will not be permitted to enroll in chemistry (CH) modules. These modules are available to academic year and spring (Hilary) term students only because final exams for all CH modules will occur in the spring.
CREATIVE WRITING
Courses are not available to study abroad students.
DRAMA AND FILM
Only higher-level modules are available and admission is subject to student background in Drama and Film.
IRISH
Courses in Modern Irish are taught in Irish and are not normally suitable for study abroad students. However, there are a few courses specifically designed for non-Irish speakers. Modern Irish Language and Literature is specifically designed for visiting students, while some courses in Early Irish are taught in English.
LAW
Open to study abroad students, although not applicable to law in the U.S.
NURSING & MIDWIFERY
Courses in the Nursing & Midwifery department are not conducive for visiting students, as these classes begin approximately two weeks prior to the traditional semester start date.
POLITICAL SCIENCE
Political science modules are typically reserved for political science majors only. A 3.3 GPA minimum is required.
PHILOSOPHY
A 3.5 GPA minimum is required.
PSYCHOLOGY
A prerequisite for this department is an Introduction to Psychology class at your home institution. Trinity will not recognize AP credit as a sufficient prerequisite.
SCIENCE, MATH AND ENGINEERING
Students may take courses within these departments as long as they are either 5 or 10 ECTS, equaling 2.5 or 5 U.S. semester credit hours. Trinity College Dublin charges higher fees for enrollment in the Faculty of Engineering, Mathematics and Science, which can range into several thousand dollars.
APPLICATION REQUIREMENTS
Eligibility
You must be at least 18 years of age. Students under 18 may be accepted on a case-by-case basis.
You must be currently attending or recently graduated from a U.S. or Canadian community college, technical college, two-year college, four-year college, or four-year university.
You must have completed at least two (2) full-time years of study at your home institution before the beginning of the term.
Recommendation Letter
Your application to this program will require one (1) academic letter of recommendation.
Visa & Resident Permit Requirements
A visa is not required for U.S. or Canadian citizens.
A visa may be required if you are a citizen of another country.
A resident permit is required for all students.
TRANSCRIPT
Upon completion of your program, IFSA will send an official Butler University transcript to your home university with your coursework converted to the U.S. semester credit hour system. You will also have access to an unofficial transcript in your IFSA Student Portal. The transcript reflects classes taken, credits attempted, and grades earned during your term abroad. This service is included in your study abroad program at no additional cost. See our Transcripts page for more information.
Excursions
Activities and excursions are designed to pull you into the communities you visit and encourage cultural connections of every kind. There's no extra fee to participate in these optional outings—everything is included in your program fee.
Below are examples from previous terms; outings may be different for your program. We'll make every effort to run them all, but sometimes things we can't control, such as local regulations and health protocols, get in the way. As a result, we cannot guarantee activities and excursions.
Dun Laoghaire Afternoon: Once a place for Victorian Dubliners to vacation in style, seaside Dun Laoghaire (pronounced Dun Leery), is now a thriving suburb with a busy main street and funky cafes. Walk the pier following the footsteps of literary greats like James Joyce to a well-known swimming spot called 40 Foot. Explore art, small beaches, and history of restored Victorian bathing pools, and enjoy the best ice cream in Ireland.
Gaelic Games at Croke Park: Ireland's national Gaelic games include hurling, Gaelic football, handball, and camogie—ancient sports not widely known outside Ireland. Try them yourself with guidance from local coaches.
Rugby Match at Royal Dublin Society: Walk to the center of the city as you soak up the atmosphere with local Leinster fans, then and catch the excitement as the home team goes for a win.
Stand-up Comedy or a Play: Dublin is known for summer arts festivals that often center on food, film, or theater. Take part for a unique taste of Irish culture.
Alternative Dublin Walking Tour: Explore bustling thoroughfares and hidden lanes alike to discover the characters that make up Ireland's vibrant music scene and see the city's fabulous street art. Along the way, learn about the city's LGBTQIA+ contributions to local culture.
Day Trip to the Hill of Tara and Newgrange (Brú na Boinne): Travel back in time with a visit to these sacred sites of ancient Ireland, which include the spiritual home of the Celts and a 5,200-year-old burial mound. Don't miss the chance to explore this UNESCO World Heritage site and its exceptional prehistoric art.
Kilkenny Weekend: Don't miss this two-night trip to Kilkenny, a charming medieval city dating back to 1195. Stay in a hostel with IFSA students who are studying all over Ireland and explore this small central Ireland standout, known for its history, artisan food, sporting culture—and Ireland's most notorious witch. Visit a local farm, try hurling with a local coach, test yourself with a pub quiz, explore Kilkenny Castle, and more.
Housing and Meals
Housing
Apartment/Flat, Dormitory/Residence Hall, Single Room (May Incur Added Costs)
Meals
Self-Catering
Details
Most students live off campus in student apartments with a mix of double and single bedrooms plus shared space for cooking and living. Housing is off campus, about a 15-minute walk away.  
Sample housing 
Take a look at Highlight student apartments, one housing option, to see what your Dublin home might be like:  
Location:

Dublin city center, a 15-minute walk from campus. 

 

Living space:

Apartments accommodate six to eight students. Each student has a single bedroom with an attached, private bathroom, double-size bed, desk, chair, and storage. Apartments include living space and kitchen. Students provide bedding, towels, and basic kitchenware. 

 

Meals:

No meal plan. Students prepare their own meals, and often say cooking together and sharing meals is a fun, social part of their day.

 

Additional details:

24-hour security. On-site laundry.

Indoor and outdoor social gathering spaces. Quiet study room. Gym. Café, pizza, and pharmacy on-site. Bus service.

 

Nearby:

Temple Bar Food Market, Dublin Castle, Guinness Storehouse, St. Patrick's Cathedral, and more.

 
Dates and Fees
Term
Term begins
Term ends
Program costs
Application deadline
Spring 2024
January 12, 2024
May 6, 2024
$25,575
Passed
Fall 2024
Early Sept. 2024
Mid-Dec. 2024
$25,575
April 1
Fall (Early Start) 2024
Late July 2024
Mid-Dec. 2024
$28,150
April 1
Academic Year 2024-2025
Early Sept. 2024
Early May 2025
Contact IFSA
April 1
Academic Year (Early Start) 2024-2025
Late July 2024
Early May 2025
Contact IFSA
April 1
Get Started
Kristen Clark
Enrollment Counselor