Program Overview
Combine an interest in teaching or the environment with aspirations to take your Spanish skills to the next level in Central America. Heredia offers top-ranked academics—and a small-city feel that makes it easy to join the community. With spectacular beaches and waterfalls an easy bus ride away, adventure is a great weekend option.
Details at a Glance
Application deadline
Fall: May 1
Spring: Nov. 1
Housing
Single Room;Homestay
Instruction language
Spanish
Language prerequisites
4 semesters of university level or equivalent. Learn More.
Apply Now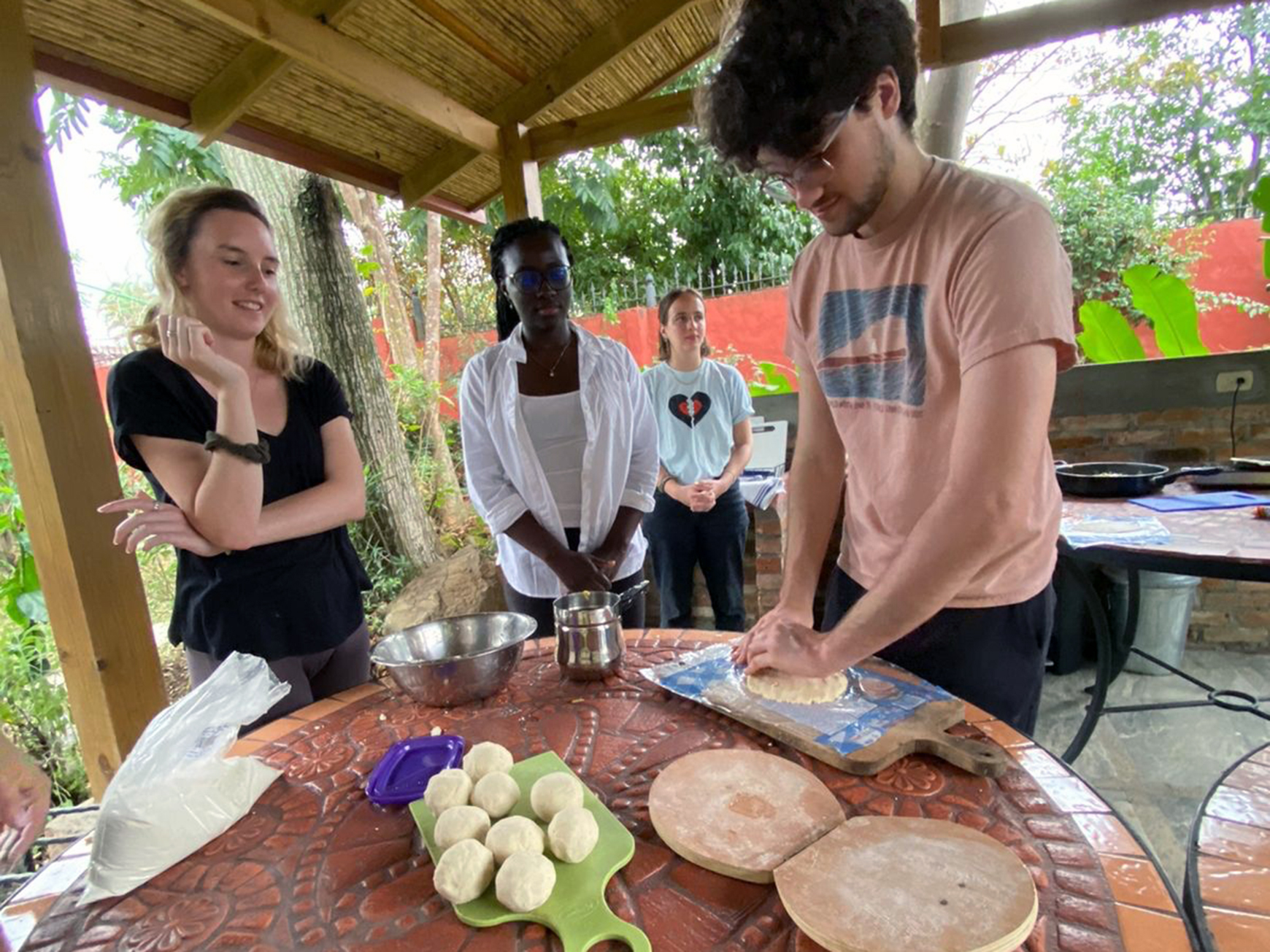 Academics
Join an exciting, diverse student body in smaller class sizes at the Universidad Nacional. In addition, take advantage of IFSA Spanish class options to further enhance you language skills. All coursework is in Spanish.
Advanced Spanish I or Advanced Spanish II
While in Costa Rica, you can opt to continue your Spanish language study. A mandatory pre-arrival language assessment will determine your appropriate language level. Based on your score, IFSA may require you to take a Spanish language class to support your academic success in Spanish-taught direct-enroll classes. (3 U.S. semester credit hours)
Universidad Nacional
As an IFSA student, you will enroll in undergraduate courses for which you are qualified and space is available.
While course descriptions may be found online, course syllabi may not be available until the beginning of your semester. Click here for the online course catalog and follow these steps:
Click on a departmental link ("leer más") in which you would like to look for courses.
Next, click on "descargar plan" to download a PDF of the course listings in the Carrera
You will see a tentative list of courses that may be offered during the year.
*Please note that UNA's online course listings are not often comprehensive. If a particular department or course you are looking for is not listed, contact your IFSA Enrollment Counselor for assistance.
If course descriptions or syllabi are not available online, contact your IFSA Enrollment Counselor. Provide the following information in your request, and keep in mind this may take up to a month to obtain.
University department/facultad
Course title
Course number (if available)
Special Option: Development of Education and Educational Models
This UNA-based course contrasts theory with classroom practice developed in the Costa Rican educational system. It also seeks to encourage in students the development of attitudes and values surrounding ethical, environmental, political, social, cultural and gender issues, consistent with the vision developed by educators themselves that serves to fight for equality, solidarity and other promoters of a more just society. Students build their courseload with the Advanced Spanish program course and three integrated courses at Universidad Nacional's prestigious School of Education and other departments. An optional non-credit workshop preparing students for the ACTFL test is available.
CHART Your Course
Find the classes you need fast with CHART. Our easy-to-use tool shows you classes recently taken by IFSA students
Can I take my classes in Spanish?
To enroll in our Spanish-taught classes at this program, you must have a specific language level. Please visit our Language Requirements page for more details. If you have questions about whether you qualify, contact your IFSA Enrollment Counselor.
Class Restrictions

All courses are conducted in Spanish by UNA faculty members. Resident staff will work personally with you to identify the best classes to match your Spanish language level and academic interests. You can also take advantage of academic and Spanish language tutorials to support you throughout the semester.
You may only take one course from Estudios Generales and one course from Escuela de Arte.
Licenciatura-level courses, such as those located in Estudios Latinoamericanos (IDELA), are only available to students with an extremely high level of Spanish and currently hold senior status at their U.S. institution.
The Escuela de Literatura may limit enrollment in literature courses to students with very good command of the language, have received high grades in previous Spanish courses, and who place into a higher level of Spanish during orientation.
Nivel 1 corresponds with first-year courses; Nivel 2 corresponds to second-year courses, etc.
I Ciclo (primer ciclo) is a U.S. spring semester (January to July); II Ciclo (segundo ciclo) is a U.S. fall semester (July to December)
Anual refers to full-year courses.
When the word Latina appears alone in a course title, it means classic, not Latino ethnicity. This applies mostly to literature courses.
APPLICATION REQUIREMENTS
Eligibility
You must be at least 18 years of age. Students under 18 may be accepted on a case-by-case basis.
You must be currently attending or recently graduated from a U.S. or Canadian community college, technical college, two-year college, four-year college, or four-year university.
You must have completed at least one (1) full-time semester of study at your home institution before the beginning of the term.
Recommendation Letter
Not required.
Language Requirement
Four (4) semesters of college-level Spanish or an Intermediate II level proficiency is required.
Visa Requirement
This program requires a visa for all students.
TRANSCRIPT
Upon completion of your program, IFSA will send an official Butler University transcript to your home university with your coursework converted to the U.S. semester credit hour system. You will also have access to an unofficial transcript in your IFSA Student Portal. The transcript reflects classes taken, credits attempted, and grades earned during your term abroad. This service is included in your study abroad program at no additional cost. See our Transcripts page for more information.
Excursions
Activities and excursions are designed to pull you into the communities you visit and encourage cultural connections of every kind. There's no extra fee to participate in these optional outings—everything is included in your program fee.
Below are examples from previous terms; outings may be different for your program. We'll make every effort to run them all, but sometimes things we can't control, such as local regulations and health protocols, get in the way. As result, we cannot guarantee activities and excursions.
Activities
City-as-Text Activity: Visit Heredia and San Jose to explore the contrasts between two important economical centers and see their most important landmarks.
Sachi Oxcart Painting Workshop: Take part in a long-standing local tradition as you help paint traditional wagons once essential for transporting goods and people.
Latin Dance Class: Explore the different shades and nuances of Latin rhythms with guidance from local peers, the AMIGXS TICXS. They'll offer up tips, joy, and their passion for dance.
Sustainable Chocolate Production Experience: Visit Bicichocolate, a bean to bar experience in artisanal and sustainable chocolate production, and learn how it connects with the local economy, small businesses, and cultural traditions.
Migration workshop: After watching a documentary on migration in Latin America, participate in a discussion focused on the Costa Rican reality with a panel of experts.
Gender Identity in Costa Rica Workshop: Participate in a workshop on diversity and gender identity topics in the Costa Rican context with professionals in the areas of psychology, socio-political processes, and women and gender studies.
Excursions
Permaculture and Sustainability Farming Trip: Get a firsthand look at how the county's commitment to a holistic and sustainable lifestyle plays out through mindful farming and permaculture, a comprehensive approach to living in harmony with nature.
Poas Volcano and Doka Coffee Farm Visit: Poás Volcano is one of the most popular volcanos in Costa Rica because of its stunning turquoise lagoon and easy access to the crater. Take a short hike to the crater for a spectacular view, and then continue on to Botos Lake. Afterward, head over to the Doka Coffee Estate Farm to learn about coffee production and its history, and enjoy a lunch and a coffee tasting.
Finca Madrina and El Copal Biological Reserve: Travel to beautiful Turrialba, a town with a rich agricultural tradition, to visit the Finca la Madrina family farm. Learn about sustainable farming by getting your hands dirty with some farm work, and then experience farm-to-table traditional refreshments, and cool off with a dip in the river. Spend the night at the Copal Biological reserve, and then rise early for bird watching and hikes on the reserve's trails with a nature guide.
Housing and Meals
Housing
Single Room (May Incur Added Costs), Homestay
Meals
All Included
Details
In Costa Rica, students live in the province of Heredia with families in what's called a homestay. Homestays are a fabulous way to soak up as much culture as you can and provide plenty of opportunity to make language gains. Many students keep in touch with their hosts after they return home.  
Homestays: Who's at home?  
We place students with carefully screened families in safe neighborhoods, with up to two students per family, though students can request to be placed individually. Many families have been hosting IFSA students for years. Often, they have grown children who have left home, and enjoy having young people around. 
You might live with a retired couple and their beloved terrier, with frequent visits from their young grandchildren. Your hosts might have high school-age children and a grandparent living with them. Or you might join a single mom who shares her home with her adult daughter and grandson, with another adult child living nearby. 
Location.

Most students live in Heredia within an easy walk or bus ride to

the university

and downtown areas. Some live in nearby small cities with easy access to excellent public transportation that makes it easy to get around. Though these are urban areas, there's no shortage of greenery.

 

Commute.

No more than 20 minutes on foot or by bus to Universidad Nacional, where IFSA has an office on Campus Benjamin Nuñez. 

 

Living space.

Most hosts live in houses. Expect to have your own bedroom, likely smaller than a typical U.S. space, and share a bathroom with other family members. Hosts provide a desk or other suitable place to study. 

 

Language.

Few families are fluent in English, but most can communicate. We do our best to place students without Spanish skills with English-speaking families. 

 

Meals.

Three meals a day included. Students occasionally eat out with friends and buy snacks independently. Hosts appreciate a heads up in advance if you plan to eat out. 

 

Other details.

Hosts do your laundry once a week. Keep in mind that washing machines tend to have smaller capacity here than in the U.S. 

 
Dates and Fees
Term
Term begins
Term ends
Program costs
Application deadline
Spring 2024
February 15, 2024
June 22, 2024
$14,955
Passed
Fall 2024
Late July 2024
Late Nov. 2024
$14,955
May 1
Get Started
Selena Rincon
Enrollment Counselor